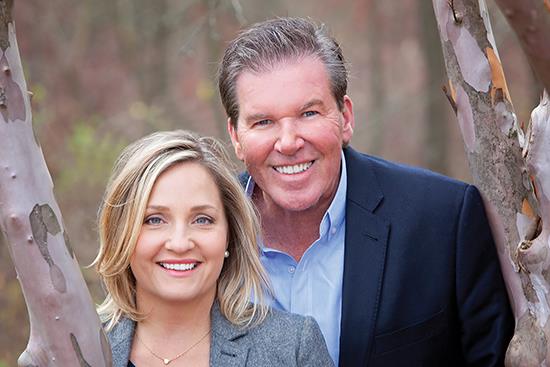 By Jessica Knight
While in high school and college at Bloomsburg University, Tom Garvey worked for a flooring store as an installer and became an Armstrong Certified Mechanic. After graduating with a liberal arts degree, he accepted a middle management position in TRW's automotive division, but his heart wasn't in it. So Tom quit his steady job and opened a flooring store. Needless to say, his parents were concerned about the decision, but Tom was willing to work hard for his success. "When I started the business, I would set up during the day, open the doors from 3:00 p.m. to 8:00 p.m., then go out and measure after the store closed," he recalls. "This is my passion."
GROWTH OF A TEAM OF QUALITY INSTALLERS
Starting out as a certified installer, Tom was committed from day one to delivering excellence in installation, so he incorporated an educational installation program into his business. All potential installers start with Garvey's as hourly employees with benefits and 401K. For the first year or two, they are paired with a senior mechanic as an apprentice, and Garvey's also runs classes on subjects that may require additional instruction such as pattern matching and sewing.
In addition to in-house and on-site training, Garvey's uses training offered by manufacturers, so new installers receive constant product training and "older ones learn new tricks," says Tom.
Once apprentices become independent mechanics, they can choose how they want to work – as independent contractors or hourly employees of Garvey. Through this system, Tom has been able to maintain a steady pool of installers performing work that meets his standards.
To find good candidates for this installer, Tom partners with a local vocational school, whose director recommends students he considers good candidates for a career in flooring installation. Because high school students often do poor interviews, Tom's general practice is to bring all recommended students on board and start them on an apprenticeship. In all but one case, the students completed the program and embarked on a career in flooring installation.
Additionally, Tom frequently offers incentives to employees who refer friends or family to his installer and has also found good candidates this way. The key to this, Tom notes, is to "make Garvey a fun place to work," so employees feel comfortable recommending others for the job.
Rooting it all is the deference Tom has for installers and the trade. "My installation team has always excelled. I know how hard they work. I make sure they have the tools and the education they need and I show them my respect," he says. In addition to its four in-house installers, Garvey's has 15 to 20 contractor installers that it works with on a regular basis.
A PHOTO OF GARVEY
At one time Garvey's had two additional locations, but about a decade ago Tom decided to close two of his four stores because he thought they were overlapping in territory. Tom reports that his theory proved correct when he saw no decrease in volume from four stores to two.
Retail accounts for about 50% of Garvey's business, with commercial and construction businesses accounting for the other half, and Tom notes that he's been working with the same builder clients for 20 years.
Garvey's sells a full line of flooring products, as well as related area rugs. And last month it added draperies to its retail offerings. Although Garvey's reports the same trends as other retailers regarding the rise of hard surfaces and the popularity of LVT, he also notes that his operation sells "a lot of laminate, which is a higher quality product than SPC." . Tom reports that Mannington is a strong partner in his laminates business.
Tom is "a big proponent of advertising," using a range of methods that include traditional (newspaper inserts, television and radio) and social (Facebook) methods, but he notes that because central Pennsylvania is very word of mouth still counts for a lot, and repeat customers make up 95% of Garvey's business.
Tom's wife, Christy, a Bucknell University commerce graduate, oversees Garvey's accounting department.
A STABLE STAFF
Another strength that Garvey relies on is its operating systems.
For staff positions, Garvey's has generated detailed job descriptions, allowing employees to clearly know and understand their responsibilities. Jobs well done are regularly rewarded and complimented, reports Tom.
The company has a strong partnership with RFMS, which visits the operation approximately twice a year to refresh Garvey's system, implement new programs and ensure the company is using the platform "to its fullest", explains Tom.
Additionally, Garvey's has been a member of Flooring America for about a decade, and Tom is full of praise for the organization's "top-notch" academic program.
Garvey's also hires trainers for its sales team a few times a year.
"My greatest strength is very good employees, who have been with me for 20 years on average," he says. These longtime employees are imbued not only with Garvey's method, but also with his mentality. "We focus on customer service, from order to sales to warehouse. Every employee is focused on that. Our customers could buy anywhere. We have to give them a reason to buy from us.
That said, Tom's biggest challenge moving forward is the age of his staff, many of whom are nearing retirement. "The job market is tough right now, and I can see replacing seasoned employees is going to be my biggest challenge over the next three to five years."
Tom says he can usually tell during an interview whether or not a potential employee will fit into Garvey's customer service culture.
THE NEW GENERATION
Tom's 22-year-old niece, currently a student at Susquehanna University, and her two teenage sons (aged 16 and 18) have all expressed interest in joining the business. All three work regularly at Garvey, during summer holidays and even on holidays and weekends.
Tom insists the trio only join the company if it's their passion. "I tell them, 'If you don't wake up in the morning and you like it, don't. ""
Until then, Tom is happy to steer the ship, adding: "I still love what I do. I still have that fire in my stomach; that's what makes me proactive. I have great people who run the operation; my job is to keep Garvey's in place for the next generation.
Copyright 2022 Floor Focus