Changes to building regulations in June 2022 mean that the current ground floor U-value for new build will drop from 0.25 W/m²K to 0.18 W/m²K.
In 2018, Milbank Concrete Products developed WarmFloor Pro, the alternative to insulated beams and blocks that works as an effective downstairs solution to reduce heating costs and improve thermal performance. This system fits well into this new specification and can be part of a more sustainable build for the life of your development.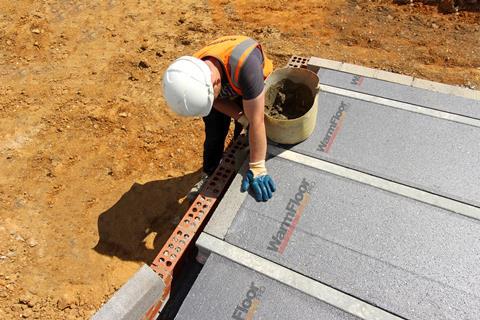 Reduced construction costs, increased energy savings, and speed and ease of installation make WarmFloor Pro a compelling alternative to standard beam and block flooring. Rated A+ in the Green Guide and fully certified, it proves to be an indispensable addition to any new sustainable development, where keeping heating costs low is paramount.
WarmFloor Pro has already been successfully installed in thousands of new construction projects across the country, and we are well experienced in supply-only and supply-and-repair requirements.
Quotations available from drawings provided

Uses our prestressed beams, T155 and D225, manufactured at our Essex factory

In-house design service available

Installed by our dedicated team of qualified installers
>> To send us your drawings for a quick and free quote, Click here
>> To download the WarmFloor Pro PDF brochure, Click here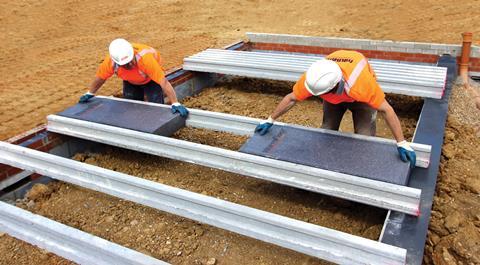 So how does it work?
By replacing standard concrete infill blocks with a combination of rigid insulation modules (EPS panels) made from lightweight, closed-cell expanded polystyrene, along with an EPS top sheet, moisture-proof membrane and a structural concrete lining, we are able to achieve U-values ​​as low as 0.07W/m²K.
We fabricate the concrete components and supply all required materials (including EPS panels) directly to site, eliminating the need to deal with multiple vendors. Opting for WarmFloor Pro as opposed to a traditional beam and block floor can provide a comparable total cost for an insulated floor and is considerably easier, faster and more economical to install.
Why choose WarmFloor Pro flooring over traditional Beam & Block?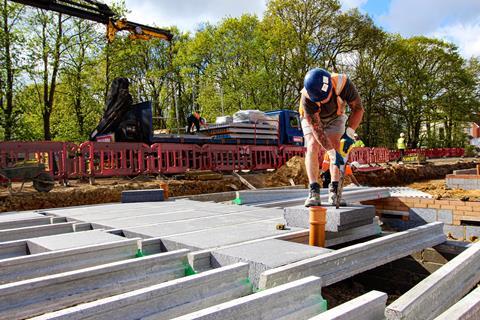 Sustainability: Rated A+ in the Green Guide, 100% recyclable and no waste created during manufacture. EPS has an ozone depletion potential (ODP) of zero and a global warming potential (GWP) of less than 5.

Thermal insulation: The use of EPS for thermal insulation in the construction industry results in significant energy savings on the heating and cooling of buildings and a dramatic reduction in polluting gas emissions. It therefore helps to reduce the greenhouse effect and acid rain.

100% recyclable: Expanded polystyrene is one of the few building materials that can actually claim to be 100% recyclable. It can be reused in the manufacture of new EPS products, soil improvements and auxiliary compost, as well as being added to other building materials. By melting and granulating, it can be made into simple products such as hangers and pens.

Efficiency: No specialist skills or tools are required for installation – EPS panels are the same length as five traditional concrete blocks and are considerably lighter and easier to manage (~2kg).

Custom made : A wide range of EPS panel depths and grades are available to provide the most economical solution for developments while maintaining the highest levels of thermal properties.

Compatible with underfloor heating: Plastic dowels push into the EPS panels and hold the heater pipes in place, providing a quick and easy base for UFH installation.
About Milbank Concrete Products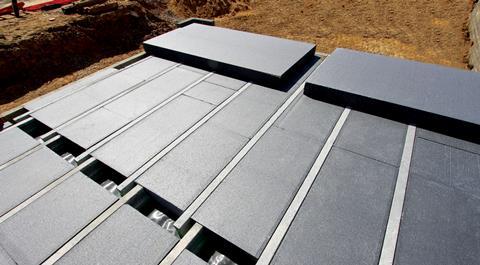 "Delivering quality products, through a sustainability-conscious supply chain, to help you build better."
Our over 75 years of experience in producing precast concrete products for the construction industry makes us the perfect choice for a wide range of customers. We design, manufacture, deliver and install a range of components from hollowcore floorboards to fully bespoke curved and spiral staircases.
In 2021, we became one of the first UK prefab manufacturers to switch 100% of our manufacturing machinery from regular diesel to HVO biofuel. In doing so, we have reduced our carbon production by 30%. Our expertise is recognized by builders of rental homes across the UK, and we are proud to help reduce the country's CO2.
Build with us
To book an appointment, submit a request or ask questions, please contact our office directly on 01787 223931 or by emailing us at info@milbank.co.uk
For more information, please visit our website https://www.milbank.co.uk/